Spesiaal opgeneem vir Innibos Digitaal.

Twee narre, Hans Jors en Hans Nors, se ma het hulle as kinders in die sirkusbaas se sorg agter gelaat. Nou, jare later, toer hulle deur die land op soek na haar. Hulle komiese soektogte neem hulle na 'n dominee, 'n waars&ecircer en baie kroe&euml. Hierdie tragi-komedie is 'n tour de force in fisieke teater. Die twee karakters bevind hulle deurentyd in lagwekkende situasies. Wees gereed om 'n traan weg te pink; die twee is argetipes van rouheid. Onder die maskers en agter die glimlagte is ons almal gestroop. Jy sal lag, frons en nadink oor die lewe.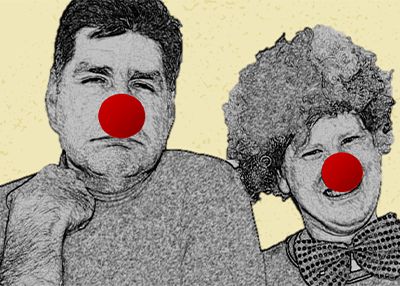 GENRE:
Tragicomedy
ARTISTS FEATURED:
Thomas van Niekerk and Joshua Carstens
AVAILABLE FOR:
You will have 72 hours access to the stream from time of purchase.
RATED:
Family
VIEWING TIME:
70 Minutes
IMPORTANT INFORMATION
You will need a reasonable internet speed and a few gigs of data to view.
The streaming concert will work on Windows, Mac, iPhone, Android and more.