Felias en Pokkel is twee veldmuise in die boer se huis. Felias is 'n slim, lang, maer muis met 'n brilletjie en Pokkel 'n kort, ronde, jong muis met 'n groen hoedjie op sy kop. Pokkel het baie vragies oor waar melk, koffie, plastiek en die koronavirus vandaan kom. Felias staan bont om te verduidelik, en dan moet hulle ook nog die honger kat dophou! O ja, en daar is sowaar 'n pratende donkie ook! Die produksie met lekker saamsing-liedjies en komedie word in poppekas-styl aangebied. Snaaks, oorspronklik en uit die pen van Jakkie Louw.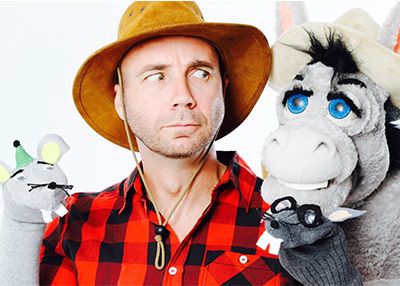 GENRE:
Childrens Theatre
ARTISTS FEATURED:
Jakkie Louw and Johan Scheppel
AVAILABLE FOR:
You will have 72 hours access to the stream from time of purchase.
RATED:
Family
VIEWING TIME:
30 Minutes
IMPORTANT INFORMATION
You will need a reasonable internet speed and a few gigs of data to view.
The streaming concert will work on Windows, Mac, iPhone, Android and more.