Met: Kaapse Filharmoniese Orkes
20 jaar, 20 songs. Onthou jy die meisie wat met Voortrekker-kappies op die verhoog verskyn het met "Afrikaners is plesierig" en regtig nie omgegee het wat enigiemand van haar dink nie? Sy het intussen met harde rock-treffers en sagte ballades Suid-Afrikaners se harte gesteel – en nou is dit 20 jaar later. Karen Zoid vier twee dekades in die musiekbedryf met 'n eksklusiewe vertoning by die Woordfees saam met die Kaapse Filharmoniese Orkes. Dit beloof om 'n onvergeetlike aand en een van die hoogtepunte van die 2020-fees te wees.
8 Maart 18:00
120 min | Van der Stel Sportgronde
R180 – R250 | R200 – R280 by die ingang
Hekke Open 17:00
Algemene vrae:
Ja daar is nog sitplek beskikbaar in die piekniek-area. Bring net 'n kombers, hoed en sonskerm.
Ja, daar is stoele in die Goue- en Silwersirkel-areas.
Ja, jy kan jou eie stoel bring of 'n stoel huur vir die piekniek-area.
Ja, daar is 'n speelplek en aktiwiteite vir kinders.
Ja, daar is 'n kroeg met craft-bier, gin en goeie wyn.
Ja, daar is kosstalletjies en -foodtrucks.
Ja, jy kan verniet parkeer reg langs Van der Stel Sportgronde.
Ja, daar is 'n pendeldiensstasie reg langs Van der Stel Sportgronde.
Nee, jy kan nie jou coolbox, eie drank, boombox, gazebo, viool of sambreel bring nie.
Ja, kom vroeg. Hekke open 17:00.
Ja, bring jou gedrukte kaartjie saam hek toe.
Kinders o/6 gratis | Kinders o/16 – R80
Vat jou ID saam kroeg toe as jy nie 18 lyk nie. As jy nie 18 is nie, moenie drank probeer koop nie.
Om vloei te versnel en toue kort te hou, is ons kantantloos – jy kan dus net met debiet- en kredietkaart betaal. Dis veilig, vinnig en moeiteloos.
Geen glas op die gras toegelaat nie.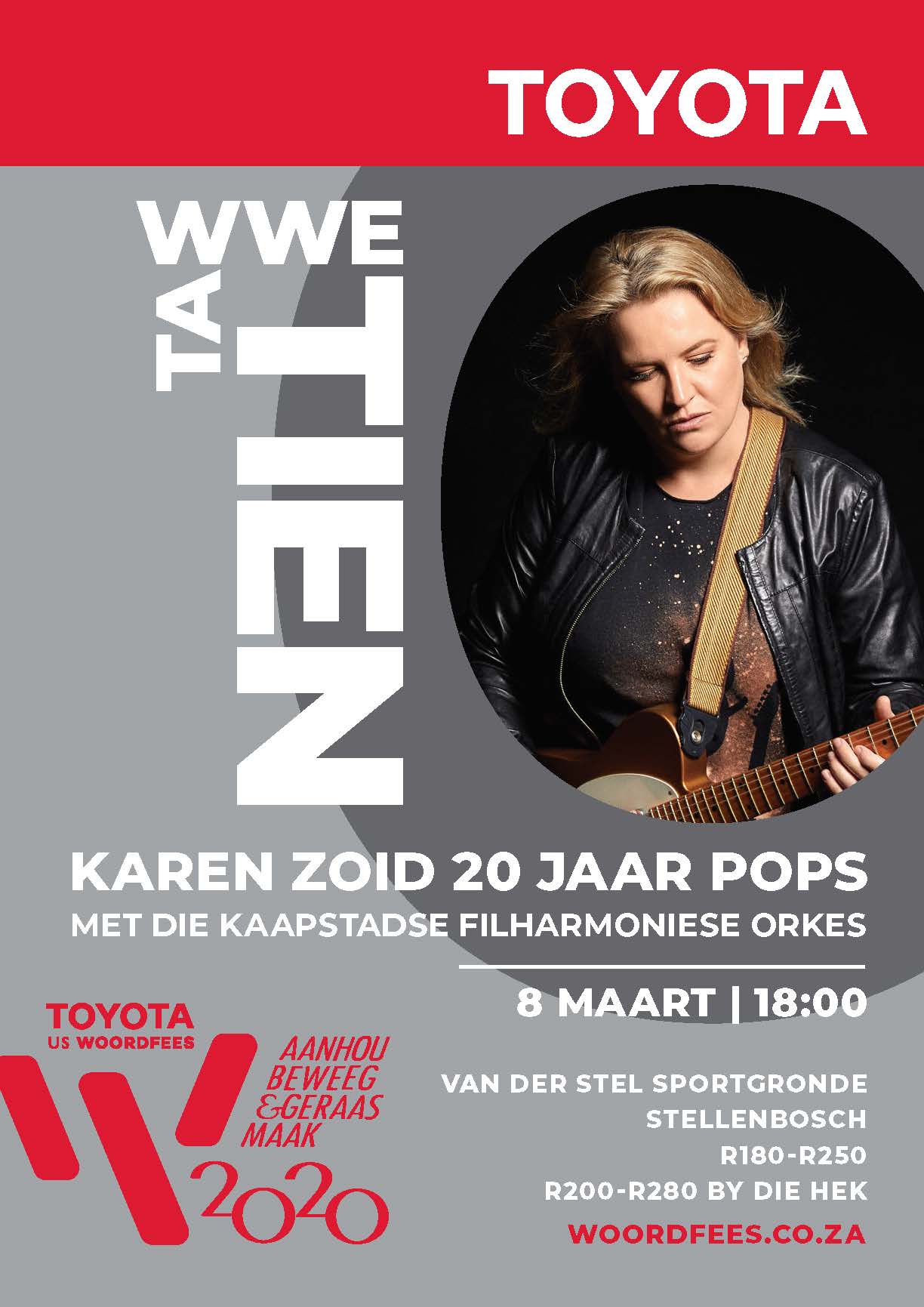 All Ages
Met: Karen Zoid en Kaapse Filharmoniese Orkes
Exchanges And Upgrades
Exchanges and upgrades allowed for this event. No downgrades
Doors/gates Open
1 hour 30 minutes before start of show
Ticket Collection
Tickets booked online or through the Computicket Call Centre can be collected from any Computicket, Shoprite, Checkers, Checkers Hyper or House & Home (during normal trading hours). Please collect tickets from these points more than two hours before the start of the show. 2 Hours before the show starts, tickets can only be collected at the venue 45 minutes before the time. The credit card used for the booking must be presented when collecting the tickets.
Refunds And Cancellations
You may cancel any booking submitted to us for tickets that have not yet been issued to you at any time prior to the date of the event to which such booking pertains by sending a cancellation notice to
info@computicket.com
or calling our Customer Care Centre on +27 (0)11 340 8000 or 0861 915 8000. You may also cancel and return any issued tickets acquired from us at any time prior to the scheduled date of the event to which they apply by handing in your tickets at any of our Money Market kiosks. When you cancel your booking or return your tickets you must provide us with the relevant booking number. Following receipt of your booking cancellation or returned tickets, we will refund you the face value paid for the relevant tickets (or, if a discounted ticket, then instead the discounted ticket price paid), provided that reasonable cancellation charges as determined by the Event Organiser may be charged and deducted from such refund. Unless otherwise stipulated by the Event Organiser and depending on the prevailing circumstances the following cancellation charges may apply: - If the cancellation occurs more than 30 days prior to the event a 15% cancellation fee will apply; - If the cancellation occurs less than 30 but more than 7 days prior to the event a 50% cancellation fee will apply; - If the cancellation occurs less than 7 days prior to the event a 100% cancellation fee will apply; - Notwithstanding the aforesaid, if you can provide us with suitable documentary proof that a person in whose name a ticket was booked will not be able to attend the event because of his/her death and/or hospitalisation, no cancellation fee will apply in respect of the cancellation of such person`s ticket.
Prohibited
Cameras, recording equipment and weapons.
Refreshments And Meals
Refreshments available at venue.
Address
Du Toit Street, Stellenbosch Central, Stellenbosch, 7600, WC, ZA
Parking
Parking and shuttle service available.
Disabled Facilities
Please contact the Woordfees office: 021 886 5036 / 087 238 2078.
Gps Co-ordinates
-33.935354,18.855237