Uit die Innibos 2019 argief

Hierdie produksie het nie verniet weggestap met die Fi&eumlsta as die Beste Opelugvertoning van 2019 nie. Wanneer kykNET verjaar, moet daar mos groot makietie gehou word en hierdie konsert sal jou verwagtinge oortref.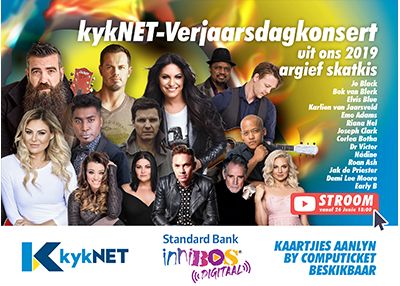 GENRE:
Music
ARTISTS FEATURED:
Jo Black, Bok van Blerk, Elvis Blue, Karlien van Jaarsveld, Emo Adams, Riana Nel, Laurika Rauch, Joseph Clark, Corlea Botha, Dr Victor, N&aacutedine, Roan Ash, Jak de Priester, Demi Lee Moore, Early B and Pieter Koen
AVAILABLE FOR:
You will have 72 hours access to the stream from time of purchase.
RATED:
Family
VIEWING TIME:
270 Minutes
IMPORTANT INFORMATION
You will need a reasonable internet speed and a few gigs of data to view.
The streaming concert will work on Windows, Mac, iPhone, Android and more.