Uit die Innibos argief.
Hierdie produksie is voor 'n gehoor in opgeneem tydens Innibos 2017.

'n Spul vriende herenig vir 'n jagnaweek. Met geraamtes in die kas en wraak op die brein stap vyf manne die boendoes binne ... slegs vier keer terug. Nou word die koring van die kaf geskei, die manne van die muise, die jagters van die prooi. "Ja manne, alles is snaaks tot iemand seerkry ... dan is dit nie meer snaaks nie ... dan is dit skreeusnaaks." Komedie, spanning en drama is aan die orde van die dag in hierdie produksie. Beter waarde vir jou geld as 'n tros piesangs ... gewaarborg!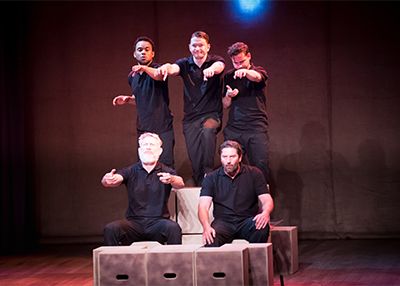 GENRE:
Comedy
ARTISTS FEATURED:
Chris Vorster, Hennie Jacobs, Hannes Br&uumlmmer, Theodore Jantjies, Francois Lensley and Deon Coetzee
AVAILABLE FOR:
You will have 72 hours access to the stream from time of purchase.
RATED:
No under 14 L
VIEWING TIME:
65 Minutes
IMPORTANT INFORMATION
You will need a reasonable internet speed and a few gigs of data to view.
The streaming concert will work on Windows, Mac, iPhone, Android and more.
No under 13